Read Time :

11

min
Life is very uncertain and you never know where you will land the very next moment. I believe that my life is a good example of this. A girl who always had her nose in books, the one who loved art, soon became an Early Childhood Educator and traveled various parts of India to spread awareness about sustainable menstruation. It feels crazy to me, recollecting all of it, but it all did happen and yes, the course of my life changed dramatically! Being a crazy sustainability advocate didn't come handy with any of the bookish knowledge that I had. Although I read a lot, researched a lot, but my real encounter with the need of awareness about sanitation, menstruation, and sustainability took a front seat sometime later, as you'll get to know.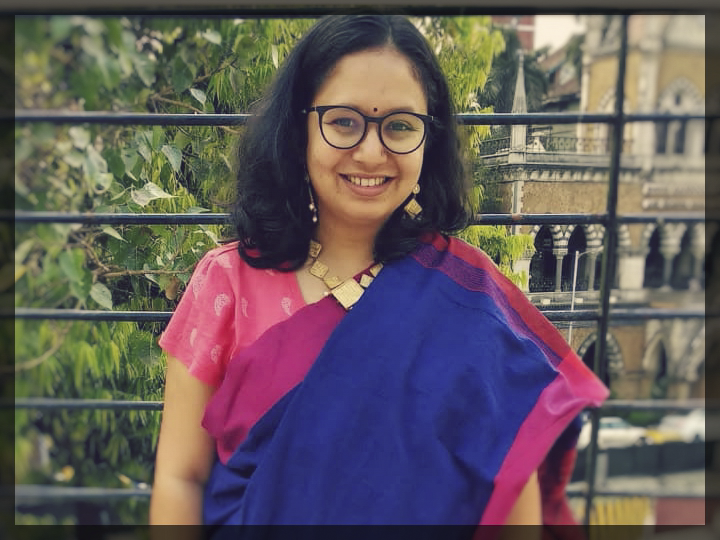 Going a few years back, I was always interested in psychology so I chose a specialization where I could closely work with people and observe them. Specialization in Human Development opened many doors for me. This made me determined to pursue M.Sc. in Human Development from S.N.D.T. University, Mumbai. Slowly I started thinking about working in rural areas and with schools so that I could work closely with children of different age groups. During my M.Sc, I applied for Bachpan Banao fellowship at Dantewada, Chhattisgarh. This fellowship was one of the best things that have ever happened to me.
Though I was initially very hesitant to choose the fellowship at Dantewada over leaving a job in Mumbai, like most of us could be, but I went for it. While in Dantewada I was based in a Porta Cabin, which is a residential school, and I assisted teachers, the Headmistress and got involved a bit in almost everything. We were a lovely bunch and we took care of 250 girls over there. The most important thing which took our energy and efforts was the lack of awareness about own body and health issues. Children were not aware of their own body parts and their functioning. And the reason behind that was the missing 'mother-daughter' interaction! Though we couldn't bring everything back I thought we should try. We also worked on health and sanitation for the whole year and tried to inculcate healthy habits in children. I conducted special workshops to create awareness about sexual health. I noticed that after that workshop, children started sharing their questions and problems about menstrual health without much hesitation. Such children also received medical help when necessary. I never thought this workshop would take me on a new journey in life!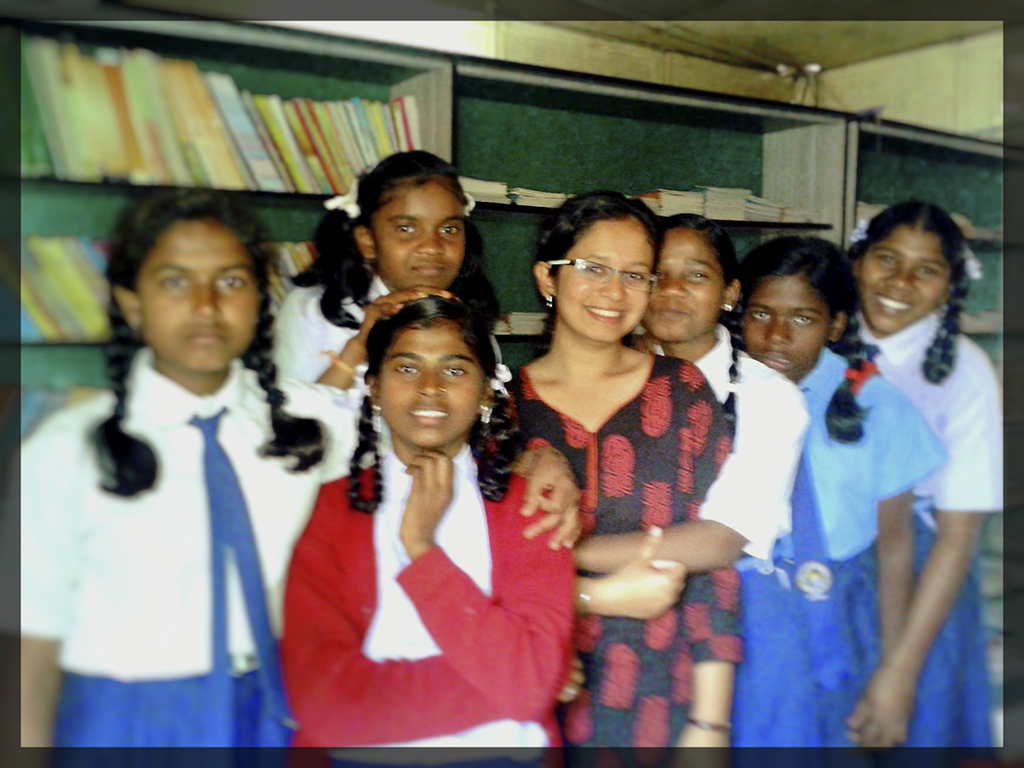 All these days while I was working in Dantewada since I had myself become a part of their system I started understanding their problems more closely. My first question during the initial days at Dantewada was, "Where would I get my pads from?" After a few months over there, I figured out that I had to travel several kilometers just to purchase a set of pads! Now, once I started using them, I had no clue about how I was going to dispose of my own sanitary pads. I mean, where to? In the cities, we just toss our pads in our dustbins and the waste pickers come and take all the garbage away. And we never bother to find out where that AWAY could be. Now in a village, this is not as simple. In hopes of finding a way out, I tried burning the pads, but wet pads don't burn. I tried burying them as well, but dogs exhumed them and those pads were littered all over again. I don't think we'd even like that sight. Later I tried throwing them away, like any other woman in the village would do. But, I knew that wasn't the right way either. If one burns them, they won't burn completely as they have a lot of synthetic material used. One needs to incinerate them in a central facility where they are burned at a temperature above 800 degrees. Due to high plastic content in these pads, they will remain in the soil for 500-800 years, thereby entering our soil, water, and food. I couldn't find any proper way out and it made me feel very guilty. I started reading about it more and more and what I came to know was simply life-changing for me. I came to know that when we throw the pads in our dustbins, they go to the landfills where the sanitation workers segregate the waste with their bare hands. If we try to burn these pads, they emit toxic fumes and dioxins in the air. If we flush them in our toilets, they will clog the drains and then manual scavengers have to get down removing these pads with their bare hands to unclog the drains. In any of these alternatives, we're risking the lives of a part of community among us, the manual scavengers who are prone to skin and respiratory disorders and the sanitation workers, who are exposed to skin infections. I felt, why are we even doing this? Most of our actions are disturbing the environmental balance and causing troubles to not just us, but people from different communities who are in some way or the other, related to this cycle.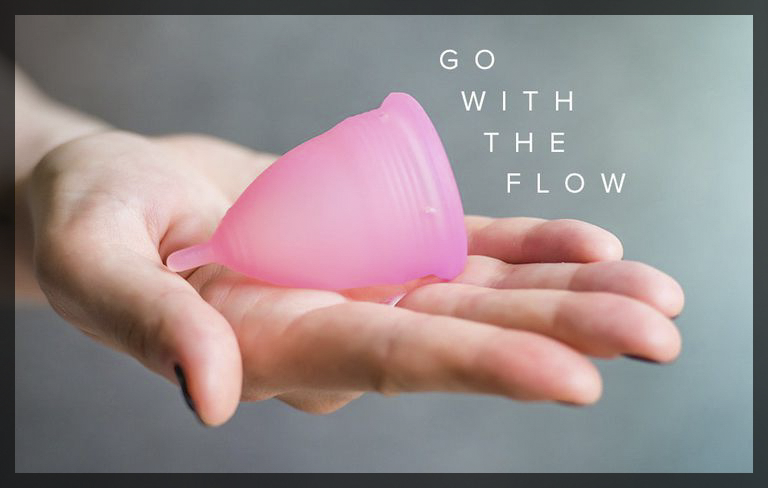 Most of us are simply unaware of the harm that we're causing to ourselves or to our environment like this. I came to know that one pad does to the earth, what four plastic bags could do. Isn't that shocking? Moreover, findings reveal that if a pad is used for 8-12 hours continuously or are reused by washing it, as I've seen a lot of village women do, that leads to serious vaginal infections, skin rashes and overgrowth of certain dangerous bacteria in your vagina. It may even lead to toxic shock syndrome. It's saddening that people really neglect these health aspects and continue using the same pad for long durations in the name of comfort. We are neither helping ourselves nor the environment this way, instead, are posing a greater threat to our own lives. I was close enough to the realization, and that realization was the gateway to finding better and safe alternatives.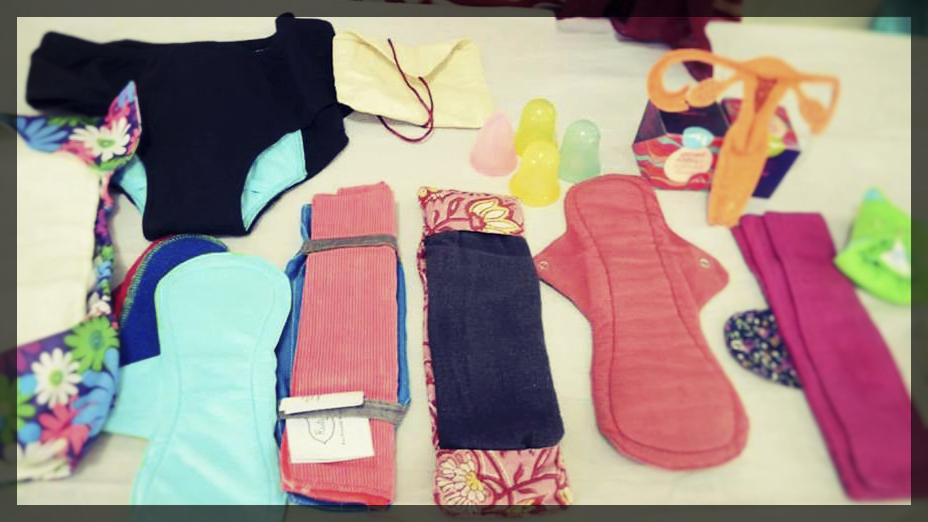 There had to be a solution. The more I read and researched, the closer I was drawn towards sustainable solutions to all of these problems. I have already replaced my disposable pads with cloth pads and a menstrual cup. Both of these options are super comfortable and completely guilt-free. I am using the same menstrual cup for 4 years and my cloth pads are 3 years old. They are healthy because they are chemical free, hence no rashes and irritations at all. They save a lot of trash that goes to landfills every day. Bangalore city alone produces approximately 90,000 kgs of sanitary waste per day! So reusables don't add waste to the heap. They are economical too, as menstrual cups are a one-time investment and cloth pads can be reused for 3-4 years. I just love reusing them and when I get bored of using the same pads, I indulge in a shopping spree as cloth pads are damn cute!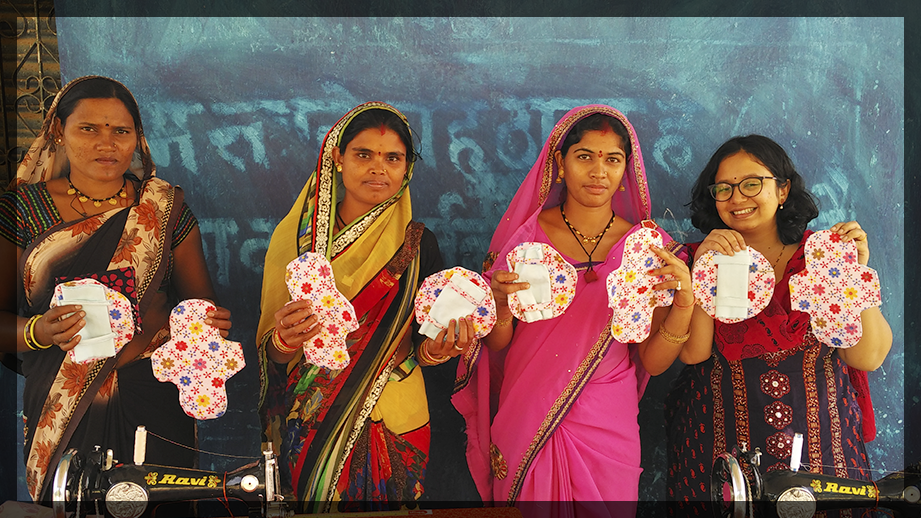 While working with adolescent girls on sanitation and menstrual health, little did I know then that we all would stitch cloth pads, use them and I would personally ditch many disposable things in my life. Dantewada was a place of self-realization for me. Though I had to move back to Mumbai soon, surprisingly after moving to Mumbai, I kept coming back to Chhattisgarh to conduct workshops for adolescent girls, women, Mitanin/ASHA workers, and self-help groups on Menstrual Health Management in rural and urban areas of Chhattisgarh.
My journey on sustainability doesn't mean just switching to reusable cloth pads and the menstrual cup. It just began there. When I moved back to Mumbai from Chhattisgarh, I got a huge shock as I saw trash on roadsides, and I saw landfill/garbage every day on my way home. This disturbed me and my husband too. So, we thought of composting our kitchen waste and we terribly failed! But that didn't stop us. We started segregating wet and dry waste and got a good compost bin which is working well for more than a year. It's all fun, and we learn so many new things each day. I've come across many people on Instagram who are also trying to live a zero waste life. Inspired by them, we started making our own dish-wash liquid using lemon peels. Then the next stop was changing the laundry soap. I never liked Rin soap. I found it too strong and it made my clothes hard. So I searched for some options and found that there were good soaps like Khadi soap and Bio-D that could replace Rin. Our laundry powder is now replaced by Soap-nut Laundry Solution. And we all make this at our home. It just excites me!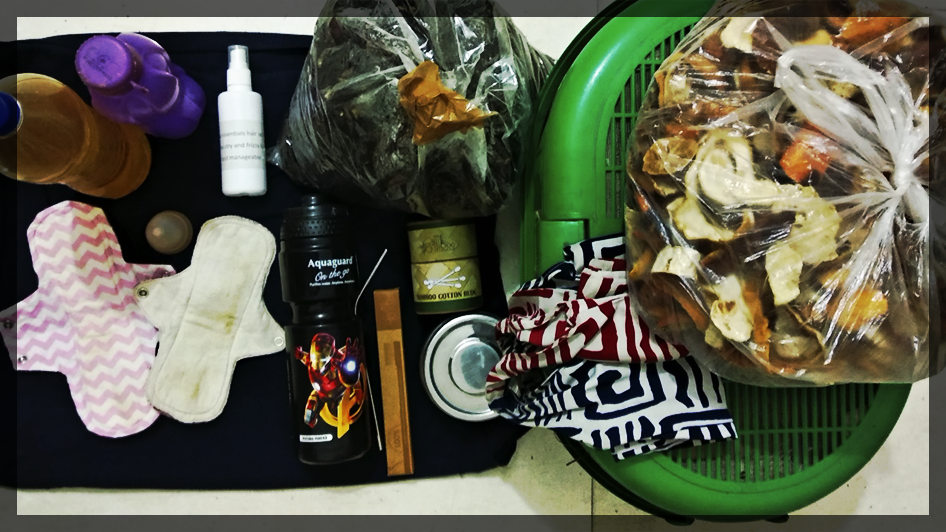 I've learned how natural products can work wonders on clothes and indirectly on the skin, this being the reason why I became an evangelist. My husband and I have become part of the zero waste community in Mumbai and we meet once a month. We learn from each other a lot and it gives us immense pleasure when we reduce waste, refuse plastic bags, plastic and paper cups. We've basically started living slow, and are moving towards mindful living- which means mindful eating, reducing shopping sprees- we exchange our closets, buy packaging-free material as far as possible. One may ask why packaging free? So, because that isn't hygienic and healthy. We have found good stores where we can buy most of the packaging free stuff and we carry our boxes and cloth bags with us. This is because the packaging used is non-recyclable. The plastic used is mostly of cheap quality and it ends on the roadsides/landfills where it would remain in the soil and contaminate the soil and nearby water bodies, or it might be burned to pollute the air, affecting our health as we will inhale the same air. This is the reason why we look for packaging free things. We also make an attempt to carry our own steel straws, spoons, tea mugs, tiffin boxes when we go out. We keep reusing them and refuse where single-use disposable options are offered. We carry our own bags and boxes when we have to get grocery or bring food parcel. I mean, this is not at all a hard work. It takes just 5 minutes to keep the necessary things in our bag.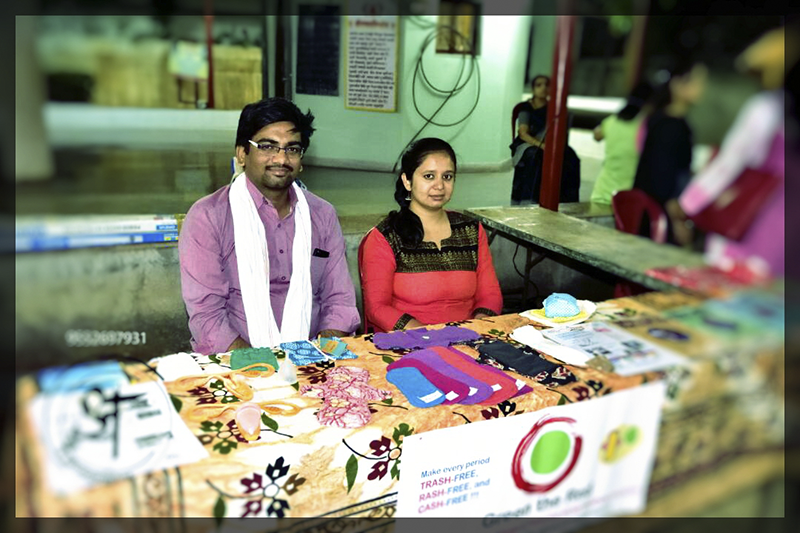 Currently, I work as a Project Research Associate at Centre for Technology Alternatives for Rural Areas in IIT Mumbai. We are trying to work on sustainable menstruation in different states of India. Traveling for work happens frequently, but my weekends are generally spent conducting workshops at various parts of Maharashtra. The struggle to conduct workshops, maintain your health and giving time to the family is honestly too difficult a juggle. Something or the other gets sacrificed, as we can't have everything on the same plate. My husband and overall my whole family is very supportive. We have to make choices and also learn from that. Nothing is a cake walk. It takes a lot of patience and commitment. Once you are committed, you find ways to do it and not reasons. The family has its own say in all this, but they know me in and out. They know my commitment level, so I have been categorized under the 'crazy' label and they still know I will take care of things. Our parents have also started experimenting, watching us do crazy things. Parents from both the sides are making their own compost, experimenting with lemon peels, supporting and being a part of the sustainability chain.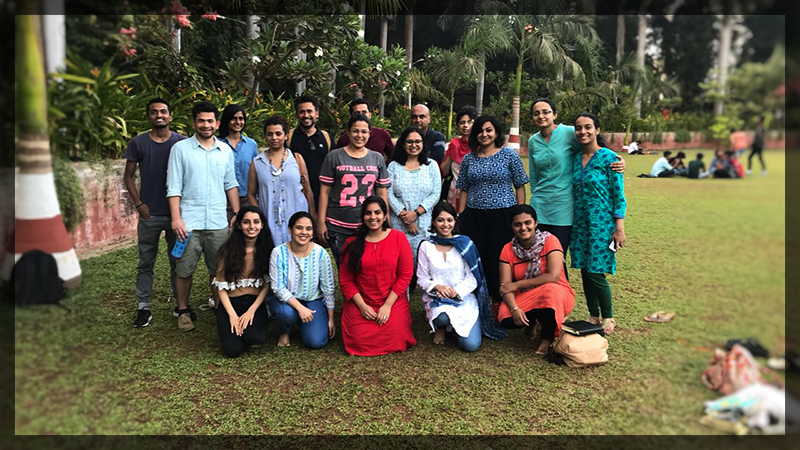 I will always be grateful to some awesome people and organizations working in this area of sustainable menstruation like Ecofemme, Shecup, Hygieneandyou, Shomota. I am also part of PAN India campaign 'Green the Red' led by volunteers, and everyone conducts workshops and awareness sessions at various urban and rural places in India. I'm not just a voice, I know I am a movement. I hope my voice could reach and impact some of the readers. Take care of yourselves better, because you have better to look forward to!
Author
Rajasi Kulkarni –
Menstrual Health Management Educator and Research Associate @ CTARA, IIT Bombay | TEDx Speaker | Green The Red Volunteer